Announcing the Profiler
Starter Kit $99.50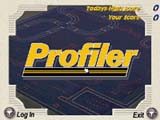 Complete Software Package
If you'd like to evaluate Profiler on your own system, or simply demonstrate what you've seen to others in your organization, then you may be interested in the Profiler Starter Kit.

Low Startup Cost
For a low introductory price, you receive the entire software package, including 10 complete tests and unlimited practice laps. You also receive the Instructors Toolkit CD, which contains complete product documentation and a set of applications for managing and understanding your test results.

Bring your own Hardware
To run the Starter Kit, you must have a computer which meets the requirements listed below, including a force feedback steering wheel. Links are provided to help you find a wheel if you do not already have one.

Order Yours Today! $99.50 + $20 Shipping and Handling



Once you have your starter system up and running, you can enjoy the full benefits of Profiler simply by purchasing additional tests on-line with a credit card, or by using a purchase order.


Minimum System Requirements
Pentium III-500 Processor or better
Windows 95 or 98
64 MB RAM (128MB recommended)
250 MB of Disk Space
PCI or AGP Video Card with 4 MB Video RAM
Any CD-ROM Drive
Any 16-bit Windows compatible sound card and speakers
Any Microsoft compatible mouse and keyboard
19" monitor
Any direct input force feedback steering wheel with foot pedals (accelerator and brake)


At least one user per system should have a 28.8K modem
Back to top

Copyright © 2000-2007 Trailzen Designs. All Rights Reserved.